Rajwadi Food of Rajasthan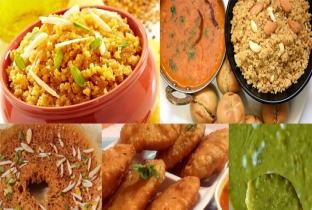 21 Aug, 2017 Rajasthan also called as land of kings and it is India's largest state and is the most popular tourist destination in India. Rajasthan is known for its historical forts, palaces, and monuments that make it a perfect tourist destination. Rajasthan's food culture is as rich as its culture and is known for its spicy taste. The sweet and mouth-watering food of Rajasthan adds memories to your Rajasthan Tours. Here are some of the best Rajwadi food of Rajasthan that will definitely make you fall in love with.
Dal Baati Churma : Dal Baati Churma is renowned Rajasthani dish famous for its uniqueness and delicious taste. It is not only loved by the locals but also by international travelers. The dish is cooked in all rural and urban states of Rajasthan. Many hotels in Rajasthan are famous for serving Rajasthan Food and one of them is Chokhi Dhani which is an ethnic village themed restaurant in Jaipur.
Moong Dal Halwa : Moong Dal Halwa is another famous sweet dish which is also an important part of the culture of Rajasthan. The dish is majorly cooked in winters and is most preferable sweet dish of Rajasthan. It is the famous dish in the menu of royal marriage ceremonies. The dish is prepared with Moong ki dal and ghee. It is best served in hot form.
Pyaj Kachori: Pyaj Kachori in Rajasthan is one of the most famous dishes along with Mirchi Bada and Samosa. Pyaj is Kachori is the best breakfast option for locals of Rajasthan. Enjoy your Rajasthan Tour with this stuffy crunchy dish.
Ghevar : Ghevar is must try the sweet dish and is majorly used in events and festivals. The dish is an important part of Rajasthan culture and tradition. The dish is served in festivals of Teej, Sinjara and other festivals of Rajasthan. Plain Ghevar, rabdi ghevar are some variety of Ghevar.
Bajre ki Khichadi : Bajre ki khichadi is an amazing option and excellent source of protein, fiber and iron. The dish is prepared with small deeded spice of cereal, Bajra. The dish is cooked in winters. Having this amazing dish in Rajasthan Tour Package will be an unforgettable moment.
Leave a Comment