Wildlife Safari At Ranthambore National Park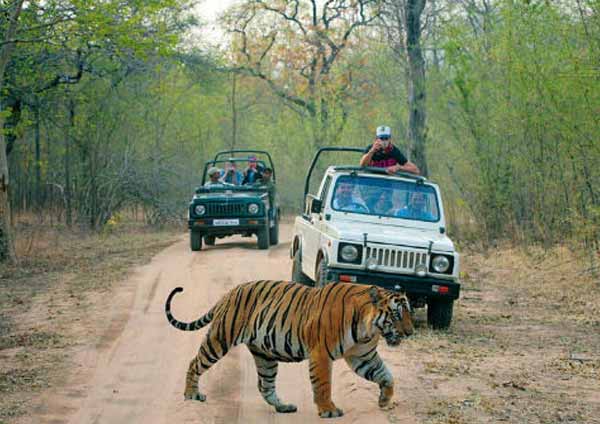 26 Jan, 2018
Ranthambore National Park is one of the biggest National Park in India. This Park is situated in the Sawai Madhopur district of Rajasthan State of India, which is almost 130 km away from Jaipur and 110km away from Kota. This is also nearby the Kota railway station and RIDCOR operates a mega-highway between Kota and Ranthambore.The closest airport is Jaipur which is 160km away from Jaipur. The distance between the Delhi to Ranthambore is 365km.
It was the famous place for hunting of animals of Royal Kings of Rajasthan. So, it is the famous wildlife tourist attraction spot and a great place for the wildlife lover and photographers.
Ranthambore National Park covers an area of 392 square kilometres. Here are also two famous sanctuaries like the Man Singh Sanctuary and the Kela Devi Sanctuary.This is mainly known for the Bengal Tigers. The Tigers can be easily seen in the daytime in this national park. The best time of Tiger Sightseeing at this park in November and May.
This is famous for flora and fauna. The Other kind of animal species you can see are Indian Leopard, Nilgai, Wild Boar, Sambar, sloth bear, langur, crocodile and Chital. The species of birds in Park are Indian Gray Hornbills, Kingfishers, Bee Eaters, Parakeets, Owl, Nightjars, Pigeon, Dove, Crakes, Snipes, Sandpipers, Gulls, Terns, Eagles, Darters, Cormorants, Egrets, Herons, Bitterns, Flamingos, Ibis, Pelicans, Storks, Pittas, Shrikes, Treepies, Crows, Cuckoo-Shrikes, Flycatchers, Ioras, Wood Shrikes, Pipits, Bayas, Sparrows, Wagtails, Munias, Bulbul, Falcons etc. There is also the wide variety of trees, plants and reptiles. Ranthambore National Park is bounded to the north by the Banas River and to the South by Chambal River.
The most important part of the Park is the Wildlife Jeep Safari and Canter Safari where you can explore the thrilling of Ranthambore National Park.
The entry time and exit time for the Safari vary according to the season. The timings in winters for the morning trip is 7:00 am to 10:30 am and for evening trip is 2:30 pm to 6:00 pm and the timings in summers for the morning trip is 6:00 am to 9:30 am and for evening trip is 3:30 pm to 7:00 pm.
The great time to enjoy at Ranthambore National Park in November to March and it closed in Monsoon season.
Golden India Travels welcomes you to explore the fusion of Taj city Agra, Pink City, Nation's capital and tiger city Ranthambore. Golden Triangle Tour Package with Ranthambore gives you more excitement and fun. Ranthambore is the one which will introduce you to the Wildlife Sanctuary.
Leave a Comment