Explore With Your Girls Gang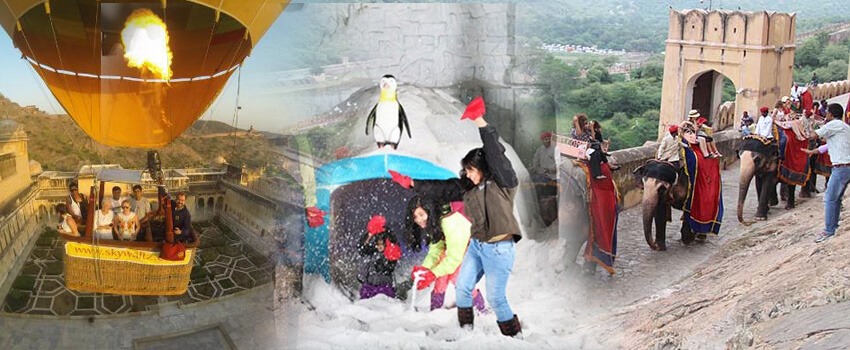 04 Sep, 2017 1. Amber Fort: It is a magnificent fort completely renovated by Raja Jai Singh I and Sawai Jai Singh II in its present form. It reflects the era of Rajputs and historical art forms. Surajpol is the first entrance path takes us to the courtyard where a celebration of victories took place at that time named as Jalebi Chowk. It is also known as Hill fort of Rajasthan and one of the five heritage sites of Rajasthan declared as the World Heritage Sites by UNESCO. It opens from 9.30 am to 4.30 pm. In the season of monsoon or beginning of winter, you can visit with your girl's gang, explore the fort and enjoy the enthralling elephant ride. You can also plan to watch Light Show in the evening.
2. Hot air balloon ride: It is always fun to spend time with your friends on the weekends and on special days. So there is a hot place in Jaipur which made your day and fill your day with adventure. So don't think twice to take hot air balloon ride. Sky Waltz near Kukas help you to experience unforgettable moments with your girl's gang. Take the ride in hot air balloon and enjoy the fascinating look of the city from the sky.
3. Snow Planet: If you want a short trip and don t have enough time to go Kashmir or can't wait to the winter season to enjoy the snow activities. Just chill and visit snow planet located at the 4th floor of central GT Mall, Malviya Nagar Jaipur. It is and snow theme amusement having slides, dance floor, the cafe where you can enjoy the activities and have the fun in the snow. So don't wait for the right time, just plan with your girl's gang and fill your day with the adventure.
Leave a Comment