North India Tour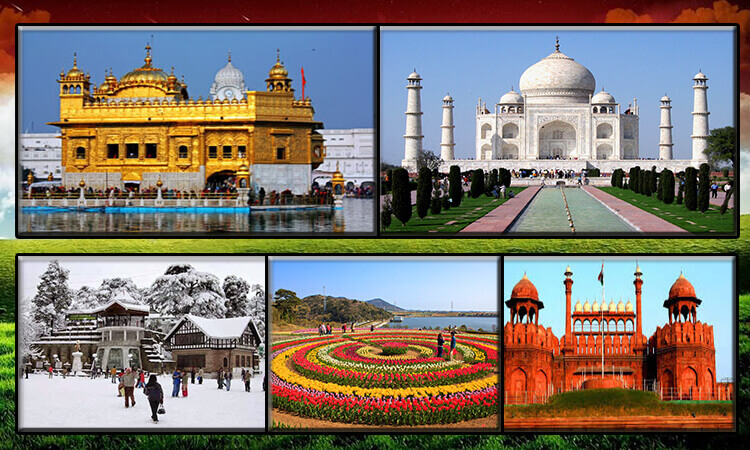 25 Dec, 2017
India has diversified culture and perfect amalgamation of different topographical lands. North India is too fascinating which attracts trekkers from all over the world, it has colors for every tourists. Destinations filled spirituality comprises Golden temple of Amritsar, popular hindu pilgrimage Allahabad and Varanasi; Heritage sites which holds position in the list of UNESCO World Heritage Sites - Epitome of love and romance i.e TajMahal, Qutub Minar, Red fort; hill stations includes adventurous Kullu Manali, fascinating hills of Jammu and Kashmir, Palampur, Scintillating Nainital, Rock Garden of Chandigarh, Ludhiana, Palampur, beautiful Uttarakhand. Magnificent Forts of Up, Delhi, Haryana and Punjab can be explored with the wide range of tour packages of Golden India Travels. Here are some important destination to visit North India:
Delhi: Delhi is the Capital of India and most visited place by tourist. It is featured with forts, palaces, monuments ,temples and also famous for shopping. The Major attractions of Delhi are Humayun's Tomb – First structure made up of Red stone built by Humayun's son Akbar and registered as UNESCO world heritage site. Red Fort was Mughal's official seat when Shahjahan decided to move his capital from Agra to Delhi. Qutub Minar – tallest minaret of the world and has the height of 234 feet. India Gate memorial dedicated to the soldiers died during First World War and Anglo-Afghan War. National Zoological park, Chandini Chowk – oldest and busiest market constructed by Mughal ruler Shah Jahan in the 17th century, Jantar Mantar, Rashtrapati Bhawan, Jama Masjid and Akshardham attracts tourists from all over the world.Same Day Delhi Tour
Agra: Agra which is very well known as City of Love or Taj City, situated at the bank of Yamuna river in Uttar Pradesh state of India. It is mainly famous for the Taj Mahal which is built by Shah Jahan in the memory of his beloved Mumtaj that's why it is known as symbol of love. Taj Mahal is one of the seven wonder of World which makes India proud. It is also registered in UNESCO World Heritage Site. The other attractions are Agra Fort built by the Mughal emperor Akbar, Fatehpur Sikri, Itimad-ud-daulah's Tomb and Akbar's Tomb. Golden Triangle Tour which includes Delhi, Agra and Jaipur.
Shimla: Shimla is one of the most visited hill stations by the tourist, situated at a height of 2200m in Himachal Pradesh state of India. It is very well known as "Queen of hills".The Major attractions of Shimla are The Ridge, Mall Road, Kufri where you can enjoy the activities like skiing and Horse Riding, Toy Train to Kalka, Jakhoo Temple which is the world's largest statue of Lord Hanuman, Himalayan Bird Park, Naldehra which is popular for Golf Club, Lakkar Bazar where you can buy shawls, handicrafts, woolens and traditional jewelry; shiva caves and Theog hill station of Shimla.Golden Triangle Tour Package with Himachal Pradesh
Srinagar: Srinagar which is surrounded by snowy white mountains, is situated in the Jammu and Kashmir state of India and also the summer Capital of Jammu and Kashmir. The attractions of Srinagar are Dal Lake – epitome of paradise on earth, spread in the area of 26 sq. Kms and the most photogenic place; Mughal gardens – combination of Nishat Bagh, Shalimar Bagh and Chashme Shahi, best garden and architecture given by Mughals. Char Chinar tree island attracts every travel and can be visited by Shikara (small boat). Shankaracharya temple, Dachigam national park and Anantnag filled with hot water springs, beautiful gardens and temples.Golden Triangle Tour with Kashmir
Amritsar: It is very well known as the spiritual and culture centre of Sikh religion, situated in the Punjab state of India and 28 km away from the Pakistan. The main attraction of Amritsar is the Golden Temple which is the holiest gurudwara and most spiritual center of Sikhs amidst of Amrit Sarovar lake where pilgrims take bath. Other attractions are Jallianwala Bagh where the massacre on April 13, 1919 took place on the order of General Dyer; Wagah or Attari Border that is the border line along Grand Trunk road from Punjab in India and Lahore in Pakistan.Golden Triangle Tour Package with Golden Temple
Leave a Comment