Kerala- God's own country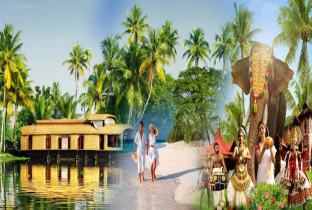 19 Aug, 2017 Kerala- God's own country is one of the best tourist attraction points. Kerala is believed to be a gift of the Arabian sea. It is also one of the best honeymoon destination in India.
Exotic beaches, rivers, waterfalls will give you the mesmerizing experience. Kerala is also known as the Paradise on earth. Kerala is famous for high mountains, valleys, lush green forests, Ayurvedic treatments, coconut water and other food items. Enjoy the houseboat in the beautiful lakes of Kerala which is the first preference of tourists. Arts, festivals and dresses are the cultural heritage of Kerala. Religions found in Kerala are Hindu, Christian and Islam. Traditional dances of Kerala are Kathakali and Mohiniyaattam. There are various hill stations in Kerala which gives the amazing views. Munnar is one of the best hill station in India. The other hill stations are Ponmudi, Wayanad. These hill stations are the best place for trekking in India. Kerala is rich in Flora and Fauna. The highest number of Indian Elephants are found in Kerala. The best place for wild animals are Periyar National Park and silent valley on the high ranges of western Ghat. The people of Kerala are very down to earth. They are very fussy about cleanliness, healthcare. People of Kerala are very protective about their religion, rituals and traditions. Kerala is one of the best places for scuba diving. Every festival has its own importance in Kerala. Some of the famous festivals are Onam, Snake boat race, Pooram. Kerala has a rich and unique flavor of Sea foods, Malayali cuisines and banana dishes. Kerala is also famous for spices.
Leave a Comment