Go On A Long Drive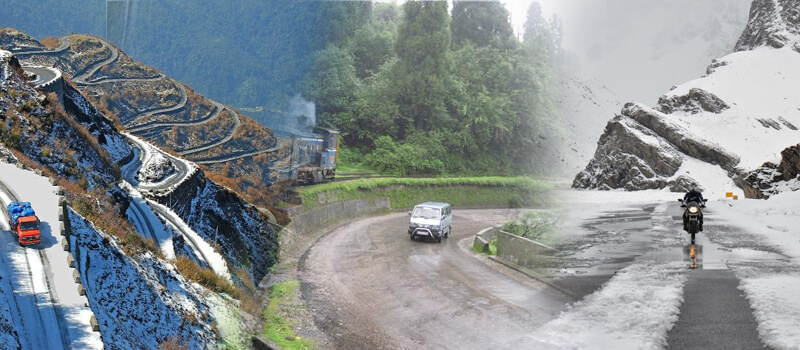 26 Sep, 2017
If you are from one of those souls to whom journey matters more than the destination or if you are passionate about discovering the hidden treasures in India, if you want a break from a daily hectic schedule of office life and want to enjoy the snow covered lanes, inspiring beauty of dense forests, endless road then you must go for a long drive. Here are the most amazing roads that are perfect for a long drive:
1. NH 3, Leh-Manali Highway: Stretch after the stretch of parched terrain, route wrapped with snow and bounded by magnific peaks-this is the Leh-Manali highway. Located at an average altitude of about 13,000 ft, the highway connects three amazing destinations which attract a large number of travelers from all over the world that are -Manali, Spiti valley, Zanskar valley and Lahaul.
2. NH 114 and NH 15, Jodhpur to Jaisalmer: Golden desert sand, that shines beautifully in the dazzling rays of the sun, surrounded the roadway for long miles on the excursion. If the idea of traveling in the desert of Rajasthan appeals you, this highway will surely win your heart. Apart from driving in one of the dustiest and barren lands this route give you the opportunity to travel on the most popular route that attracts tourists. Jaisalmer, Jodhpur, Manvar and Rohet also crowd-pleasing for the activities like desert safari, camel safari, camping, parasailing and photography of sand dunes.
3. NH 55 - Hill Cart Road, Siliguri to Darjeeling: It connects the popular destinations Bagdogra and Darjeeling, this road has an old world charisma about it. The toy train that runs parallel to this route is the supreme attraction. The ornate greenery of the tea gardens surrounding the route is another additional point. You may feel yourself amidst of a herd of cattle at several turns.
4. Old Silk Route, Kalimpong to Zuluk: It is the historic route that connects the fascinating hill station Kalimpong in West Bengal to a rugged terrain in the foot of Himalayas Zuluk located in East Sikkim at the height of about 10,100ft. It takes you backward in time as it is the part of oldest trade routes of South Asia. Zuluk is paradise in Sikkim, its enchanting beauty attracts travelers and probably made honest people of traders. You will definitely love traveling on the route when you will set your foot here.
Leave a Comment