Festivals of Gujarat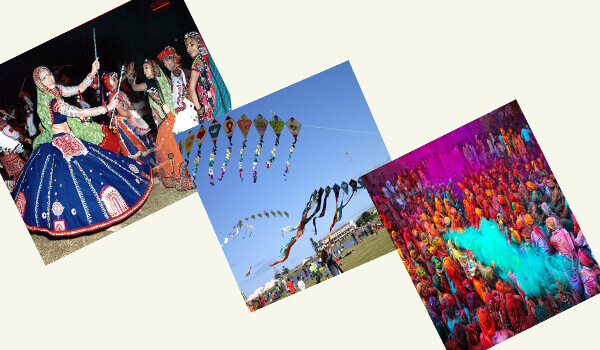 13 Nov, 2017
Gujarat is one of the most beautiful states in India. There are some famous festivals that represent the culture and tradition of Gujarat. These festivals are celebrated in different parts of Gujarat every year. Gujarat receives thousands of tourist from all around the World. These festivals are celebrated with great fun and enthusiasm by the people of all caste and religion. Some of the fairs and festivals celebrated in Gujarat are Holi, International Kite Festival, and Modhera Dance Festival.
International Kite Festival: International Kite Festival is celebrated in Gujarat every year at the festival of Makar Sankranti. On this International Kite Festival, the kites flew in the sky. Special food is prepared on this day. The festival marks the end of winter season and beginning of harvest season. The festival is celebrated with great enthusiasm. The International kite Festival is very famous in India.
Modhera Dance Festival: The Festival is celebrated every year in Gujarat during the third week of January. The festival is celebrated at Sun Temple. It is a three-day festival celebrated with great fun to experience the soul of Classical Indian Culture and music.
Holi: Holi is the festival of colors celebrated every year on the full moon day in the month of Phalguna. It is the festival in which play with color. The festival of Holi marks the agricultural season of Rabi crop. The festival is celebrated with great joy and fervor in India.
Bhavnath Mahadev Fair: It is a five-day festival celebrated in the month of February during Mahashivratri. The fair is held at Bhavnath Mahadev Temple located in Junagadh Gujarat. During the Bhavnath Mahadev Fair, the visitors are served with free meals by the organizers of the fair. In this fair stalls is set up for shopping like sarees, idols and other utensils.
Navratri: It is a nine-day festival and is the most religious and colorful festival of Gujarat. The festival is celebrated with great fervor in Baroda and Ahmedabad. In this festival, colorful costumes are worn and Garba and Dandiya dances are performed. The festival is celebrated to honor the Mother Goddess which supports the entire universe.
Leave a Comment