Best Treehouses in Kerala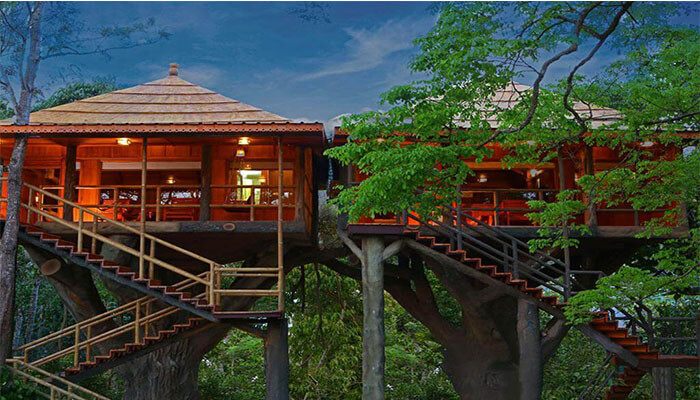 23 Oct, 2017
Kerala also was known as God's own country is the most visited tourist destination in south India. Tree houses in Kerala are the built on the top of the tall sturdy trees and are the best accommodation option to enjoy your holidays. These tree house resorts are built using eco-friendly materials like wood and bamboo. Here is a list of the most famous treehouses in Kerala that will provide the luxurious, serene and relaxing holidays.
Jungle Jive Tree House, Munnar: It is situated in a forest spread over an area of 15 acres. It is at a distance of 13 km from Munnar. Jungle Jive Tree House is best suitable for enjoying family Holidays in India. The tree houses offer comfortable rooms, attached balconies and amazing views of mountains. It is an ideal place for adventure lovers where you can enjoy the beauty of the jungle.
Dream Catcher Resort, Munnar: The treehouse is located within 20 acres of cardamom, tea, and orange plantation. The treehouse offers restful rooms, ayurvedic spa treatment, and professional staff. You can also enjoy the fascinating views of mountains, bird watching, and campfire. Dream Catcher Resort is surrounded by dense forest and is the perfect place for trekking and adventure activities.
Green Magic Resort, Wayanad: It is one of the best eco-friendly tree house resort constructed from sustainable and recyclable materials. It is the perfect place to escape from the city life. The tree houses offer comfortable stays, bio-toilet, campfire, trekking, and night safari.
Vythiri Resort, Wayanad: The treehouse is situated at a distance of 15 km from Wayanad. Vythiri is a small village and is an ideal location to enjoy in the lap of nature. Enjoy the views of waterfalls, birds, butterflies forest and natural treasures. Vythiri resort treehouse is situated in the deep jungle and is a perfect holiday destination for adventure seekers and nature lovers.
Leave a Comment